Spicy Cucumber Pickles (Acar Timun)
Kitty Z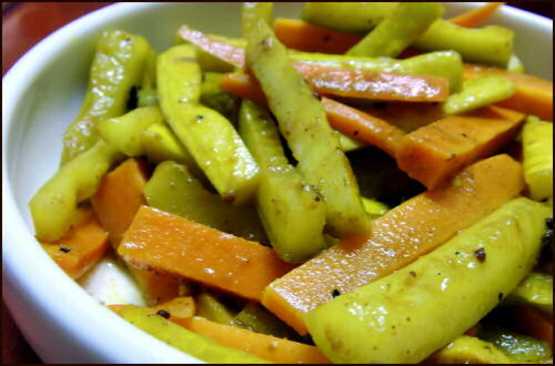 Another Singaporean pickle recipe from the "Nonya Favourites" cookbook; these are a delicious twist on dill pickles. They're spicy in the sense of being spiced; if you like more heat, add more chili powder. I have also successfully used prepared grainy mustard in place of the mustard seeds. Cook time includes "pickling time" overnight.
Cut cucumber in half lengthwise and remove the seeds. Cut flesh into 3.5 cm juliennes.
Mix 1 tsp salt with cucumbers, and let sit for 15 minutes to draw out the extra moisture.
Cut the carrot into pieces the same size as the cucumber.
Heat oil in a wok and add ginger and mustard seeds, cooking until mustard seeds pop. Stir in the turmeric and chili powder, then add the vegetables, sugar, and salt and saute for 2 minutes (do not overcook, the vegetables should stay crunchy).
Remove from heat and mix well with vinegar. Allow the vegetables to cool in the pan, then place in a jar. Refrigerate overnight before serving.