Spicy Crock Pot Chickpeas
cyaos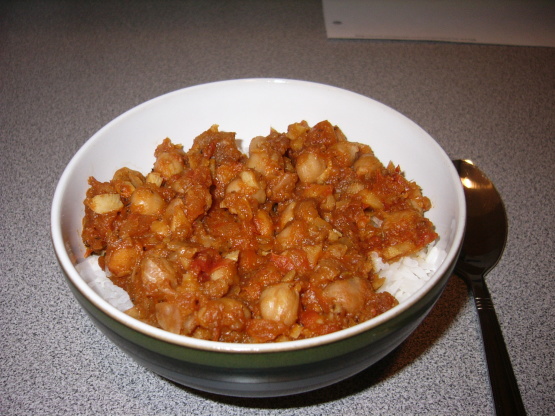 A hot spicy meatless crock pot dish -- and easy, too!

Top Review by pollen
yummm! this was delicious, lennie - thank you! i made it pretty much exactly according to the recipe, and it got rave reviews all around. I really liked the flavour the balsamic vinegar added. I will certainly be making this again! (and it was really easy too :)
In a skillet over medium heat, cook onions, stirring, just until they begin to brown; then add garlic and all spices and cook, stirring, for 1 minute.
Add vinegar and tomatoes and bring to a boil, then place mixture in your slow cooker; add chickpeas and combine well.
Cover and cook on Low for 6 to 8 hours or on High for 3 to 4 hours, or until the mixture is hot and bubbling.
Serve with hot naan or pita bread.