Spicy Crab Sushi Casserole
betsaroo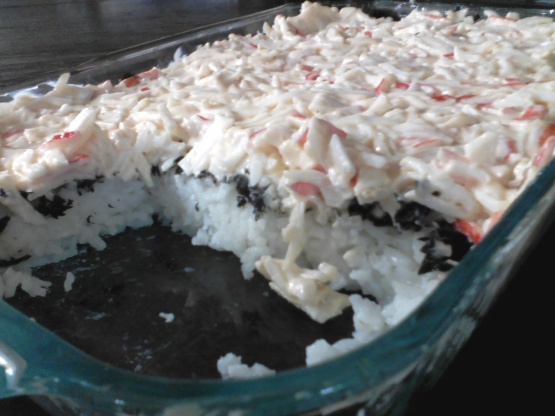 A fast and easy way to get sushi flavor without all the work.

This was simple and delicious. The Sriracha sauce was a pleasant surprise! I think the next time I make it I'll add thin slices of avocado for more of a California roll vibe. I can't believe I've never heard of anything this before. Highly recommended.
4

cups cooked sticky rice

10

ounces imitation crabmeat, about 1/2 a bag

2

tablespoons sriracha sauce (more for spicier, less for more mild)

1

cup mayonnaise

1

tablespoon garlic, crushed
1⁄4-1⁄2 cup Nori Goma Furikake (any kind of furikake will do, experiment to see how much you like to use)

1

pinch salt

1

pinch pepper
Flatten the rice 1 1/2 inches thick in an 11x7 dish (any dish that is roughly this size will work).
Shake furikake evenly over the rice.
In a separate bowl, shred imitation crab flakes into 1/4 inch slivers.
Add mayo, sriracha sauce, garlic, salt, and pepper to crab flakes, mix well.
Spread crab mixture evenly over the rice and nori.
Enjoy!