PaulaG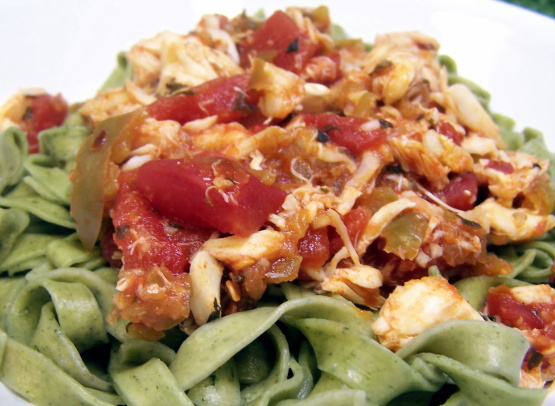 I love crab meat and added with my favorite pasta, you can't beat this one. It's a quick week night dinner.

Perfect recipe! Easy, quick, healthy and tasty. I used chicken stock because it was all I had and it was just fine, but I'm sure fish stock would give it just that little extra kick. I made whole wheat rotini pasta and just tossed it in with the crab mixture and it was great. I did double the crab so I wouldn't have to have half a pound sitting in my fridge and it was great. Overall this is a major keeper and will go into our regular rotation. Thanks for sharing!
In a large skillet or saucepan, heat the oil with the garlic, bell pepper and red pepper flakes over moderate heat.
When they sizzle, add the tomatoes, crushing them with your hands.
Stir in the fish stock, tomato paste, parsley, sugar, lemon zest and bay leaf.
Simmer for 7 to 10 minutes, until thick but still fairly liquid.
Then stir in the crabmeat and continue simmering until the sauce is thick, 3-5 minutes more.
Serve over hot cooked pasta such as spaghetti, linguine, fettuccine or fettuccelli.