GaylaJ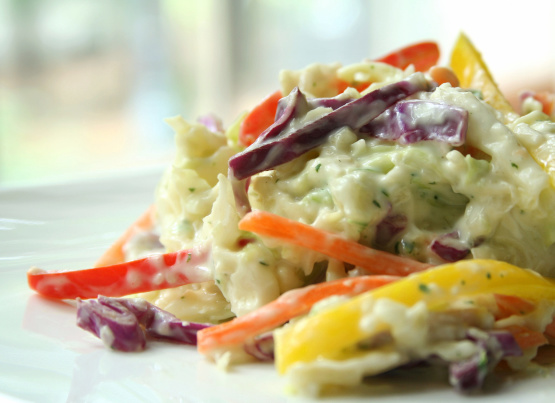 This is a wonderful version of coleslaw that packs a little heat. It's perfect with any summer BBQ. Adjust the heat by adding to or removing the jalapeños! From Chef Dean Fearing, The Mansion on Turtle Creek, in Dallas Texas.

Top Review by GaylaJ
Great slaw! I took the easy way out and used a 16-ounce package of slaw mix that included green cabbage, red cabbage, and carrots. I subbed a serrano for the jalapeno and used the food processor, rather than the blender, to prepare the dressing. I didn't worry too much with mincing or dicing the dressing ingredients very finely (just coarsely chopped), since I knew the processor would finish the job. We really enjoyed this flavorful slaw--thanks for sharing the recipe!
3

cups green cabbage, leafy part only, julienned

2

cups red cabbage, leafy part only, julienned
1⁄2 red bell pepper, seeded and membranes removed, julienned
1⁄2 yellow bell pepper, seeded and membranes removed, julienned
1⁄2 carrot, peeled and cut into very fine julienne

1

cup mayonnaise

2

shallots, diced

2

garlic cloves, minced

1 -2

jalapeno pepper, minced
1⁄2 teaspoon cumin seed, toasted and ground

2

tablespoons fresh cilantro, chopped
1⁄2 tablespoon malt vinegar
1⁄2 tablespoon Worcestershire sauce
fresh lime juice (to taste)
In a large bowl, combine cabbages, red and yellow peppers and carrot until well blended.
Process remaining ingredients in a blender until smooth and adjust seasoning.
Pour dressing over vegetables and toss to combine.
Recheck seasoning and serve.