Tiggrr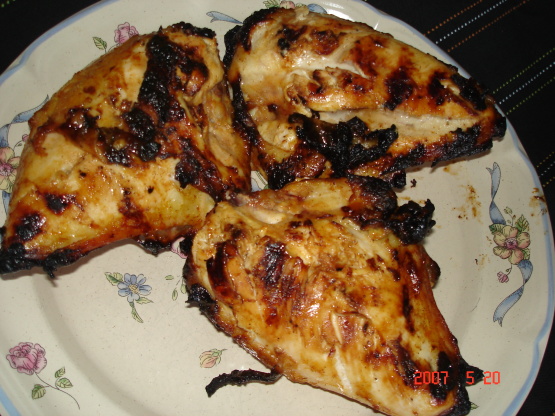 For me, chicken is something that I always have on hand. Recipes for different ways to cook it, however, are not. I thought this sounded interesting and turned out delicious!

Top Review by Tiggrr
What a wonderfully different marinade. I put this together in a few minutes this morning. I used bone-on chicken breasts and basted the chicken as it cooked. I had plenty of sauce left over to serve with our meal and was enjoyed by my family. I did go easy on the hot sauce as that is our taste. The chicken was moist and tender. This is definitely a keeper and each time I use it I will think of dear Amy.
Place ingredients in a zip top bag and refrigerate for 4-6 hours.
Heat grill and cook meat; brush with marinate while cooking.
Bring marinade to a boil. Thicken slightly and serve with the meat.