Spicy Chorizo Penne Pasta
Rita1652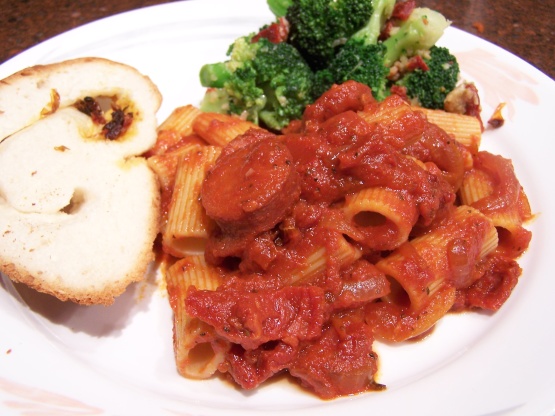 Make this piqucante pasta dish tonight using chorizo, tomatoes, chili and red wine to name but a few ingredients! Perfect for a cosy night in with a glass of red wine!

Top Review by cylee
This is 100% KICK BUTT AWESOME!! I was debating between this and another recipe, chose this one.... and SO glad I did! Unfortunately, I didn't have any sun-blushed tomatoes, so I used some home oven-dried ones that I reconstituted in the microwave. Added the tomato water with the tomatoes. EXCELLENT!!... (and don't skip the step of roasting the garlic, it adds so much dimension to this dish!!
Heat the oil in a frying pan over a medium to high heat. Add the onion and chili and cook for two minutes.
Add the chorizo and cook for a further five minutes, or until golden brown all over.
Add the remaining ingredients to the pan, apart from the pasta. Bring the to the boil, then reduce the heat and simmer for 15 minutes. Season, to taste, with salt and freshly ground black pepper.
To serve, stir the pasta into the sausage mixture, then pour onto a serving plate and garnish with fresh basil.