Spicy Chipotle Shredded Beef for Burritos or Tacos
teresas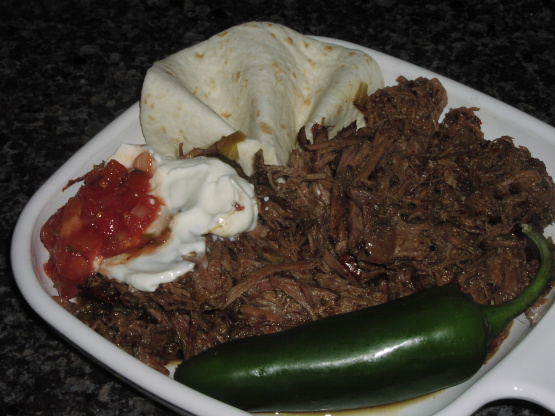 Prepared in a pressure cooker (or not), this meat comes out fork tender. It is SPICY, so don't be afraid to cut back on the chipotles. YUM!!!!!!!!!!!!!

The hubby said this is one of the best things he's ever tasted...either he was starving...or he really loved this...It's such and outstanding dish...I made as posted (in the pressure cooker) with the top amount of the suggested ingredients...it wasn't to hot for us...it's just packed full of flavor...I served it with heated flour tortilla and some sour cream with salsa...the side dish was some refried beans...I had a 3 pound pot roast and it could have spent about 15-20 minutes more in the pressure cooker...the outside of the roast shredded with no problem...but the inside didn't...so I just cut it up...it was cooked through...this is going in my best of cookbook for 2017...thanks for posting the recipe...:)
Liberally salt and pepper roast then brown on all sides 5-8 minutes using olive oil in the bottom of the pressure cooker pan.
While the meat is browning chop onions, green peppers, cilantro, and get garlic peeled/smashed.
Remove roast onto platter. Drain excess fat/oil from pan. Put grate in bottom of the pressure cooker (don't worry if you dont have a grate), add meat, onions, green peppers, garlic, cilantro and chipotles. Season all with cumin and oregano to taste, add 1 cup of water. ** If no Pressure cooker don't worry, cover meat with water and simmer for 1 1/2 - 2 hours till tender.**.
Close pressure cooker, bring to pressure, then reduce heat and cook at 15psi for 1 hour, let cooker cool down naturally.
Remove meat from cooker to rest for 5 minutes, discard veggies (or if you prefer extra SPICY shred them up with the meat). Reserve a small amount of the liquid in pan.
Shred meat with two forks (discard any fat/gristle), return to reserved liquid and keep warm on low heat until ready to use in burritos or tacos with your favorite fillings.
ENJOY!