Spicy Chipotle, Honey, Mustard, Grilled Chicken
Rita1652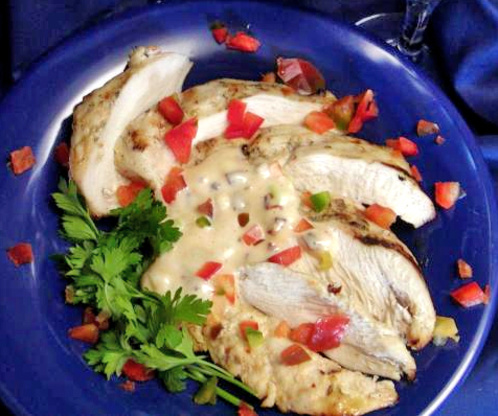 This tender chicken is slightly sweet & spicy! You can kick it up by adding an extra chipotle pepper and you can leave the seeds in. Cooking time depends on how thick the breast are.

I made this one last week and forgot to review it... It was wonderful on both chicken and thick cut pork chops. I will make this often this summer! I did use just dijon mustard and not the honey mustard, but added a bit more sugar free honey than called for. I also made extra so I could use some as a dip. This also, made the meat very moist and tender, though I am not quite sure how long I marinated before grilling. Delicious! I am trying another chicken recipe from you tonight and hope the results are as great as this one:)
In medium bowl, combine all ingredients except chicken and garnishes. Reserve 1/3 cup mayonnaise mixture.
Grill or broil chicken, brushing frequently with remaining mayonnaise mixture, until chicken is thoroughly cooked, turning once.
Serve chicken with reserved mayonnaise mixture and garnish with diced red peppers and cilantro.