Spicy Chinese Green Beans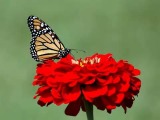 Recipe is from the Favorite Recipe Book. This Asian-style stir-fry sounds delicious with the fresh green beans.
Directions
Wash beans; trim ends, and remove strings. Slice beans in half lengthwise, and set aside.
Combine soy sauce and next 5 ingredients, stirring until smooth. Set aside.
Cook ginger and garlic in hot peanut oil in a large skillet over medium-high heat for 30 seconds, stirring constantly. Add beans and cook 3 minutes, stirring constantly. Stir soy sauce mixture, and add to beans; cook stirring constantly, 1 minute or until mixture thickens. Remove from heat, and sprinkle with a few drops of sesame oil. Serve immediately.