Spicy Chinese Chicken (Slow Cooker)
teresas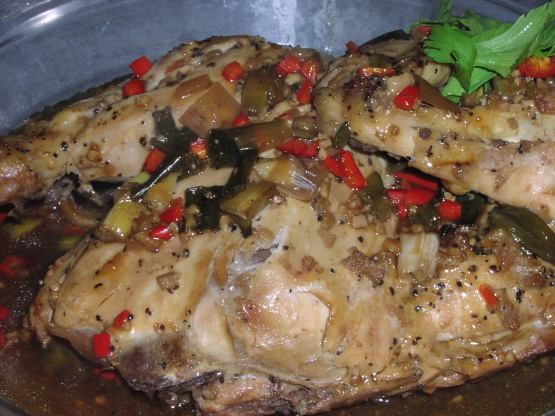 This should be made in a large slow cooker. Where the recipe calls for soy sauce, use dark soy sauce which is aged longer and is more flavourful and works better for braising. If you can't find the dark soy sauce, use the same quantity of regular soy sauce mixed with 1 tbsp molasses. You can use chicken thighs or chicken breast for this recipe I prefer using thighs, but, if you are using the breasts, cook them for the shortest time as they tend to dry out when cooked in the slow cooker.

Top Review by ImPat
I quartered a whole chicken and allowed the 6 hours on low but I think it was really cooked in about 4 as it was a little dry, unfortunaly I wasn't home to check on. I only used halve the amount of cornstarch stated and still ended up with a very thick gravy consistency sauce. think I would just reduce to intensify the taste of the sauce. Served with a vegie packed fried rice. Thank you Pink Diamond, made for Everyday A Holiday.
In a bowl, combine chicken stock, soy sauce, rice vinegar and brown sugar, stirring well to insure suagr is dissolved. Add green onions, garlic, gingerroot and peppercorns.
Arrange chicken over bottom of stoneware and cover with sauce. Cover and cook on low for 5 to 6 hours or on high for 2 ½ to 3 hours, until juices run clear when chicken is pierced with fork.
With a slotted spoon, transfer chicken to a platter and cover with foil to keep warm. Strain liquid into a saucepan and add chile peppers. Whisk in cornstarch mixture. Bring to a boil. Reduce heat to simmer and stir for about 3 minutes or until thickened and glossy. Pour over chicken and serve with hot fluffy rice.