Spicy Chickpea Casserole - Vegetarian Delight!
cyaos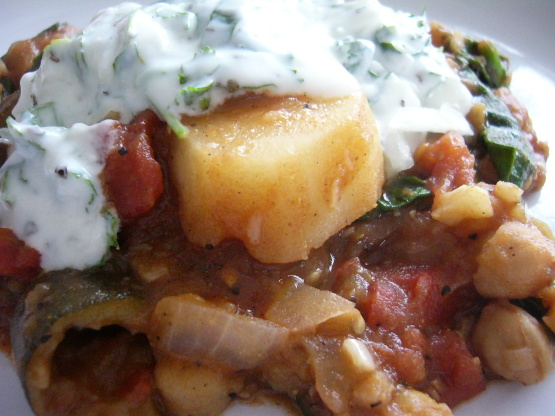 This is a perfect vegetarian recipe. It is very tasty, very filling and easy to prepare. Why not try cooking it in a tagine instead of a casserole dish...

Top Review by cyaos
This was a tasty vegetarian meal that we will have again. I did double the garlic and only used about 1/2 teaspoon of mint as my boyfriend does not like the stuff. I also did not have a flameproof casserole so I made it in a large stirfry pan and transferred to a casserole dish to bake. I could not find any ras el hanout spice and substituted garam masala. This made a *lot*, I would prepare for six servings at the least - next time I will halve the recipe. Thanks for posting.
300

g chickpeas, drained

125

g fresh spinach, lightly chopped

200

g Greek yogurt

2

tablespoons olive oil

1

large onion, peeled and roughly chopped

3

garlic cloves, peeled and minced

2

spring onions, trimmed & chopped

2

tablespoons of fresh mint, finely chopped

2

tablespoons fresh coriander, finely chopped

1

teaspoon fresh gingerroot, peeled and minced

2

tablespoons tomato puree
1⁄2 teaspoon ground cumin
1⁄2 teaspoon ground cinnamon
1⁄2 teaspoon ras el hanout spice mix

250

g chopped tomatoes

1

aubergine, cut into 1-inch cubes (eggplant)

1

large courgette, in 1-inch cubes (zucchini)

1

large potato, peeled & cut into 1-inch cubes

500

ml hot vegetable stock
Preheat oven to 160c/gas3. Heat oil in large flameproof casserole. Add onion and gently cook until softened - approx 5 minutes.
Stir in garlic, ginger and spices & fry gently for 2 minutes. Add the tomatoes, aubergine and courgette.
Next add the stock, tomato puree, potato and chickpeas. Bring to the boil, cover and cook for 1 hour in the oven.
Blend the yogurt with half of the spring onions.Add the coriander and mint.
Remove casserole from the oven. Take 3tbsp of vegetables from the casserole, mash them up and return them to the casserole (this will thicken the sauce).Stir in the spinache and return to the oven for a further 10 mins cooking time.
Serve topped with a spoonful of yogurt and chopped spring onions.