Spicy Chicken With Couscous
Peter J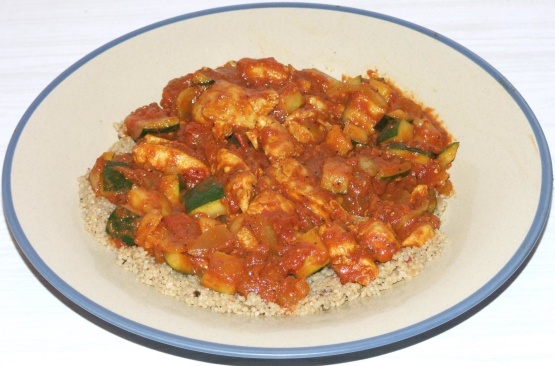 This is a deliciously spicy low fat chicken dish. You control the spiciness with strength of the curry powder you add. You can even leave out the chicken to use it as a side dish.

I agree with the others who said this is bland. The recipe requires some tweaking to get taste. Four zucchinis seems like way too much, and I cut this to two and added some green pepper. I used an extra tsp of curry powder, and also added about 1/2 tsp salt. It helps to make the couscous with chicken broth instead of water too. I thought with these mods it turned out pretty well, but the fam rejected it.
Heat 1/2 the oil in a frying pan and add the diced chicken.
Cook until browned and put aside.
Heat the rest of the oil in the frying pan and add the onions, zucchini, coriander, cumin and curry powder.
Cook until the onion is transparent and the zucchini is soft.
Add the chicken and the canned tomatoes and simmer on low heat for 10 minutes.
Meanwhile prepare the couscous.
Add the sugar to the chicken mixture and simmer for 2 minutes.
Serve over the couscous or mix together and serve.