Derf2440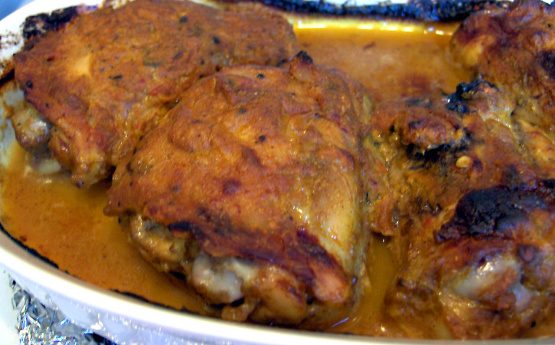 This is a good low fat recipe for chicken thighs. The recipe comes from my New family cookbook for people with diabetes. The marinating time is not included in prep time or cook time.

These were very good, but I have to admit they did not quite meet the expectations I had from reading other reviews. I used 1/3 c salsa instead of 1/4 c, and I'm glad I did as my only complaint with the recipe is that it needs more "kick". I used medium salsa; next time I will use hot or I will add 1/4-1/2 t cayenne to the marinade. As it is I sprinkled some on my serving and it made all the difference, adding that subtle warmth I expect from a curry dish. Otherwise this was good; the texture of the meat was nice and you can't beat the ease of prep. Thanks for posting, this will be a fun one to play with! I served this with couscous pilaf and steamed veggies.
Place the chicken in a glass dish.
In a small bowl, combine the yogurt, salsa, curry and cumin.
Pour over chicken, turning to coat.
Cover and refrigerate at least 6-hours or up to 24 hours.
Preheat oven to 375 degrees.
Transfer the chicken and sauce to an oven proof dish, sprayed with nonstick pan spray.
Bake uncovered, 40 to 45 minutes, or until chicken is tender and cooked through.