alligirl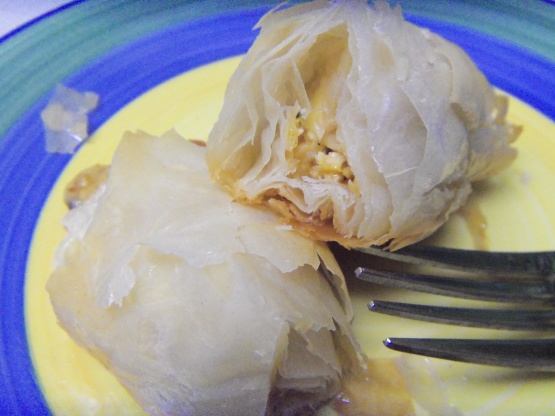 This is one of my favorite recipes from Pepperidge Farms.

Top Review by tudaan
Okay, so I just made these. They are well worthy. The only thing I changed was adding probably a 1/4 - 1/2 cup of canned sweet corn. We love corn in our mexican-ish stuff.<br/><br/>I tried a bite and it is good. Enough seasoning for the wife, although I could always use a bit more heat.<br/><br/>Drizzle on just a little cheese dip from the local mexican joint, or make your own cheese dip and this goes from worthy to exceptional. This has a crispness to it that is lacking in my normal chicken enchilada recipe.<br/><br/>I don't typically keep phyllo dough on hand, but if I ever do, I will make these again. Two thumbs up from the wife and I.
Preheat oven to 350°F.
In bowl mix chicken, cheese, chilies, chili powder and garlic powder.
Unfold dough.
Remove 1 dough sheet leaving remaining dough covered with plastic.
Brush with margarine.
Repeat with 3 more sheets, stacking each on the top of the previous sheet.
Cut stack in half crosswise into 2 rectangles.
Place about 1 cup chicken mixture on long edge of each rectangle.
Fold 1 inch of each short edge over chicken mixture.
Starting at edge with chicken mixture, roll tightly.
Place seam-side down on baking sheet.
Brush with margarine.
Repeat with remaining sheets and chicken mixture.
Bake for 20 minutes or until golden.
Slice each roll into 4 pieces.