Spicy Chicken and Veg Soup
loof751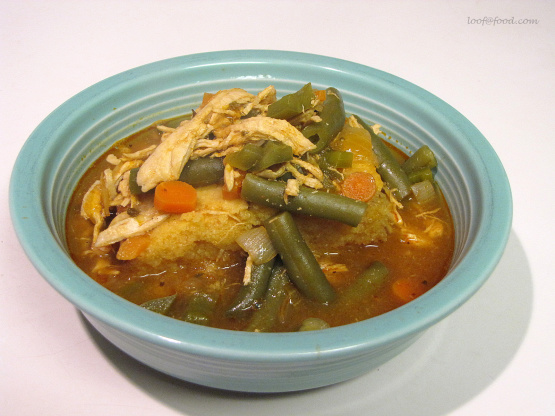 i came up with this soup one day when i was tired of eating sandwiches for lunch. i happened to have all the ingredients on hand. I make a big batch and freeze so i can have some whenever i want. i never measure anything, so please know that all measurements are my best guesses.

Great soup! Gotta love an easy and tasty soup made from staple ingredients that are always on hand. The only ingredient I didn't have was fresh green beans so I used canned (1) and just added them during the last 5 minutes of cooking. I served this over cornbread instead of using the optional rice. Flavorful and just spicy enough - thanks for sharing the recipe! Made for Fall PAC 2012
Heat oil over med heat in a med sauce pan. Add vegetables and cook 5 to 10 minutes.
Pour in V8 and chicken stock, bring to a boil. Add bay leaf and seasonings.
Continue to boil until all veggies are tender, and flavors are blended.
To serve put a big spoonful of rice in each bowl and top with soup.