Spicy Cherry and Apple Chutney
awalde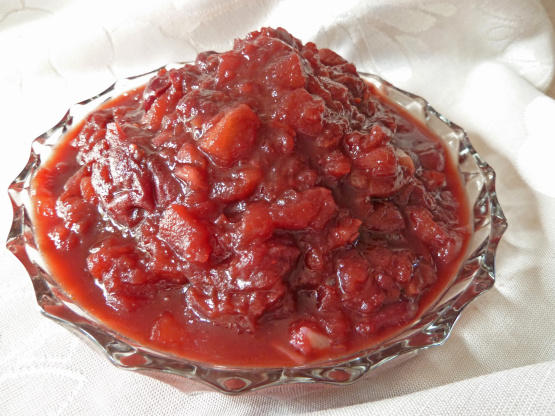 I slightly tweaked this recipe, the original of which was found on the Oregon Fruit Products Co's website www.oregonfruit.com.

Very nice chutney. I found it a little thin for my taste (even after 30 min cooking) and might cut back on the vinegar and sugar just a little bit next time. Along those lines, I wanted to make sure the amount of vinegar was correct before I made this and decided to look it up at the original source. While there, I noticed it mentioned fresh ginger (use 3 times as much as dried) and since I had some fresh ginger I needed to use, I did, supplemented with a bit of dried. After cooking for 30 minutes I used my potato masher to break up the fruit a bit. Now to figure out what to use it on first! Thanks Syd :) [Made for PAC Spring 2011]
In a heavy medium-size saucepan, combine all ingredients & bring to a boil.
Reduce heat & simmer 20 to 30 minutes until thickened.
Serve hot or cold with any type of meat. Rrefrigerate any leftovers.