Spicy Cheese Puff Appetizers
2Bleu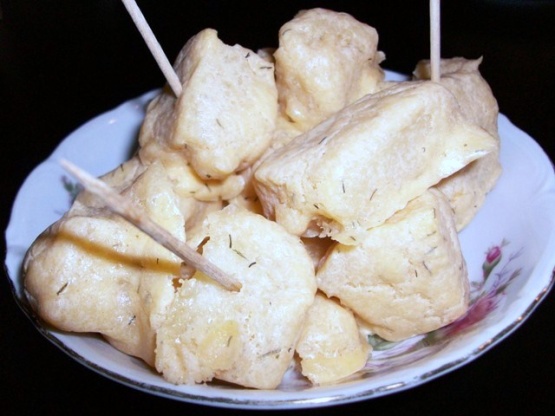 This inexpensive, yet very easy to make party tray appetizer is packed with flavor.

I don't know if I messed these up or not, but they were rather bland. The little boys like them, but the D&D players sent almost all of them back home. They do hold nicely and were almost no trouble to make. Maybe some garlic would improve them? It would be nice to have a little more guidance in the directions. I didn't know how much to beat the egg whites. I went with foamy but didn't go all the way to the hold-a-peak stage. Also, I only got 26 puffs instead of 50 before I ran out of cheese coating.
Cut crust from bread; slice bread into 1 inch cubes.
Melt butter and cheeses over low heat, stirring to blend. Add spices and Tabasco sauce. Fold in the beaten egg whites.
Toss bread cubes into cheese mixture to coat and place on parchment lined cookie sheet in a single layer (leaving a small space between each piece). Refridgerate 2 hrs or overnight (or you can freeze them and bake later).
Preheat oven to 350°F and bake for 15-20 minutes until golden brown.