ChelseaW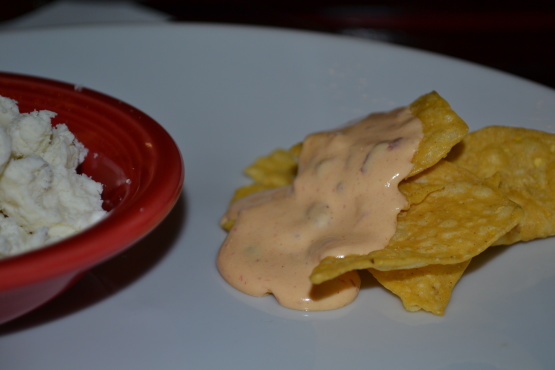 From October 2008 RR. *In picture, steak pieces were mixed in*

This was a very good and well flavored cheese sauce. I was hoping for more of a queso dip and it is thinner than that, but my false expectations are not the recipes fault. It is very rich and by the end I wanted just a bit more kick, which is why I gave it only four stars. However, there was not a drop left and all the boys at my table loved it!
In a bowl, toss together the parmesan cheese and cornstarch.
In a medium saucepan, cook the milk, chicken broth and chiles over medium heat until warm.
Add the cream cheese and cook, whisking, until smooth, about 5 minutes.
Bring to a simmer and add the parmesan mixture, a large handful at a time, stirring until smooth.
Cook the sauce over low heat for about 5 minutes.
Serve the fondue warm with whatever you like, such as pretzels, potatoes, bacon, cauliflower, etc.