Spicy Cashew Chicken Stir Fry
Derf2440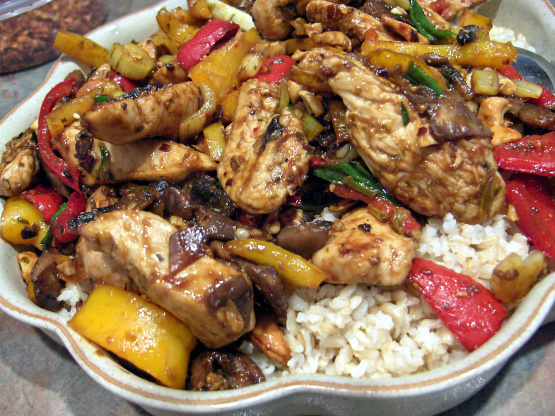 I have no idea where I got this, but it sure is tasty!

Vergy good! I had no broccoli in so i subed with coloured sweet peppers and did add one chopped jalepino papper. The only thing I would do differently next time would be to add more ginger, the one teaspoon was not enought for our tastes. We loved the hoisen sauce , nice change for a stirfry. Served it over plain brown rice. Thanks for posting, I will make it again.
Coat a large nonstick skillet with nonstick spray and warm over med-high heat.
Add the garlic & ginger and cook for 30 seconds.
Add the chicken and cook, stirring constantly, for 3-4 minutes or until no longer pink.
Transfer to a plate.
Add the broccoli and cook, stirring constantly,for 3 minutes or until it's crisp-tender.
Return the chicken to the skillet and add the green onion.
Meanwhile, in a small bowl combine the hoisin sauce, oil, and red pepper flakes.
Pour into the pan and cook, stirring constantly, for 2 minutes or until all is blended.
Stir in cashews and serve.