Spicy Carrot and Zucchini Bhaji
Prep 15 mins
Cook 15 mins

Posted for the Asian forums Eat Your Veggies December 2008/January 2009. Taken from the Australian Womens Weekly New Asian cookbook.
Directions
Whisk besan (chickpea flour), salt and the water in medium bowl until mixture forms a smooth thick batter.
Stir in spices, garlic, onion, carrot, zucchini and coriander.
Heat oil in wok, deep fry tablespoons of mixture, in batches, until vegetables are tender and bhaji are browned lightly.
Drain on paper towel.
Serve with mango chutney.
Reviews
Most Helpful
These were very good. I loved the mix of veggies with the besan (chickpea) flour. They were not overly spicy either, although I did cut half of the chili powder and used curry powder in its place. I shallow-fried these in oil and drained them on a paper bag. Note: this batter can be made a day a head and kept in the fridge. Served these with Curried Couscous, sauteed baby kale, yogurt, and peach chutney. It was a delicious meal! Thanks, Pat! [Made for I Recommend Tag]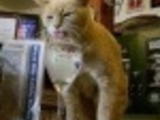 These are fantastic! I bought besan flour at a local indian market before i knew what to do with it, but am very glad i did. Delicious and so flavorful!

Really sorry we just did not like this dish. Tried baking it as recommend by other reviewers. DH liked the taste but not the texture. May be better fried as I think 75% of our issue was the texture itself.