Spicy Capellini With Scallions and Garlic
Rita1652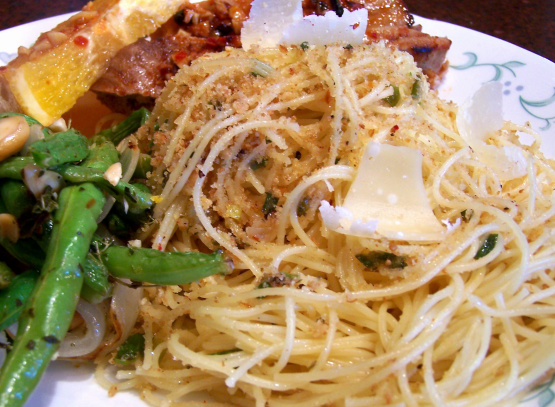 A delicious pasta if you like some spice and green onions. Quick and easy as well from F/W 07.
In a large skillet, heat 1/2 cup of the olive oil. Add the scallions and cook over moderately low heat until softened, about 5 minutes. Add the garlic, crushed red pepper, orange zest and a generous pinch each of salt and pepper and cook until the garlic is fragrant, about 2 minutes longer. Stir in another 1/2 cup of the olive oil and transfer the mixture to a large bowl.
In a large pot of boiling salted water, cook the pasta until al dente. Drain the pasta, reserving a few tablespoons of the cooking water. Add the pasta and the reserved cooking water to the bowl and toss well. Season with salt and pepper.
In a small bowl, toss the bread crumbs with the remaining 2 tablespoons of oil and season with salt and pepper. Sprinkle the bread crumbs over the pasta and serve immediately, passing the cheese at the table.