Spicy Cajun Chicken Penne
lazyme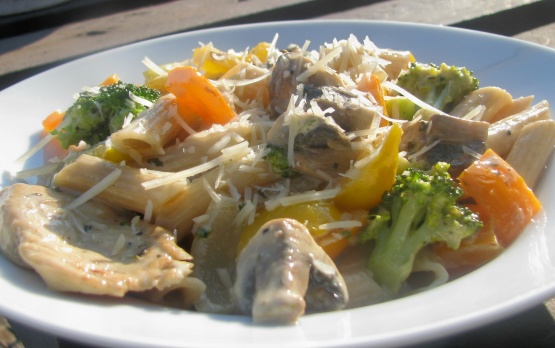 You'll find yourself moaning "mmmmm" while eating this delicious one pan meal. Plus, this cooks together very quickly once you get started, so have everything cut and measured ready to be added before you begin cooking anything. A super delicious meal that is pretty easy to pull together in a snap! Don't let the long ingredient list intimidate you! It's soo well worth it! 3/1/17 Substitution Note: To make this recipe 'healthier' try the following substitution: OMIT the 3/4 cup milk and 1/3 cup butter, REPLACE with 1 cup chicken stock. We've been using this simple substitution for a while now, and actually like it better than our original full fat version. <3 Enjoy!!
While pasta is cooking, place chicken and Cajun seasoning in a bowl and toss to coat.
In a large skillet over medium heat, sauté chicken in olive oil until chicken is tender, about 5-7 minutes.
In a small bowl, whisk together milk, melted butter and flour (see note in 'description' about a yummy substitution). Add in salt, basil, lemon pepper, garlic powder and black pepper. Set aside.
Add green and red bell peppers, onion, mushrooms and broccoli to the skillet. Cook 2-3 minutes.
Reduce heat and slowly add milk mixture to skillet and heat through. Sauce will thicken.
Mix pasta into skillet.
Serve with fresh parmesan cheese and a fresh Italian Bread Loaf.