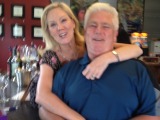 Different, but YUMMY!
Make and share this Spicy Cabbage recipe from Food.com.
Directions
Put a large pot of water on stove to boil. Chop cabbage head into cole slaw size pieces (fairly small). Chop onion and garlic. Add all other ingredients to pot of water and add cabbage, onion and garlic when the water is boiling. Simmer for 30 minutes. Drain. Fill pot back up with cold water and let sit on stove for five minutes. Drain. Add butter, if desired, and serve.