WiGal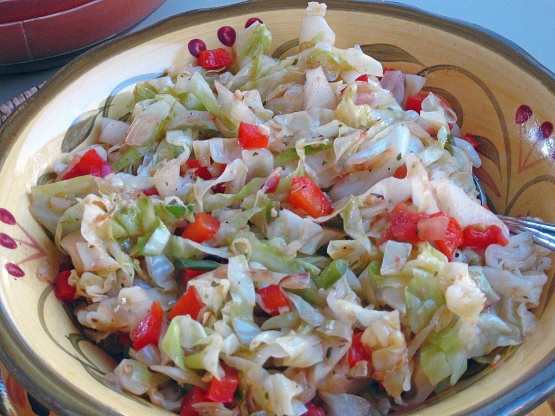 Spicy recipe - not your every-day cabbage dish. Evolving recipe! Origin unknown.

Top Review by WiGal
A gem of a cabbage recipe! Spicy nice, colorful, and fairly easy. I had everything chopped and ready before starting-it moves along pretty fast. Made as posted except used red pepper instead of green, reduced to 2 servings which was huge but did have a meat and potato with it too. Thank you LVT for sharing.
Heat oil in 12-inch skillet until hot. Cook and stir onion, garlic, jalape?o peppers, green pepper, cumin, coriander, turmeric and salt over medium heat until onion is tender, about 5 minutes.
Stir in tomatoes and cabbage. Heat to boiling; reduce heat. Cover and simmer until cabbage is tender, about 12 minutes. Stir in vinegar.