Spicy Butternut Squash Oven Fries With Apples
Bergy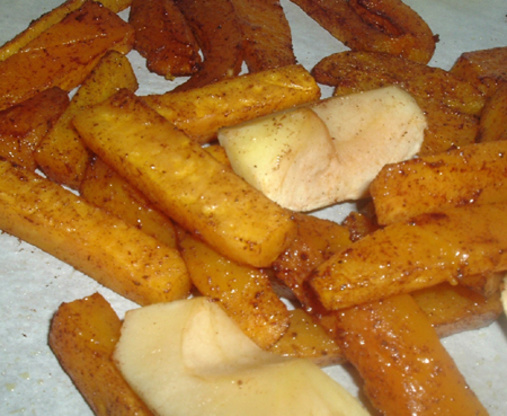 Well here I was with quite a large squash so I decided to try something a bit different and came up with this recipe. We enjoyed it and I hope you will too. Because I was just creating this recipe and most people like a bit of oil I used a tbsp, but you can eliminate it--the spices will adhere to the squash without it!

Good idea! I drizzled maple syrup over my fries for a sweet side dish. It cooked exactly according to time and I opted to shake the spices and oil in a pot to reduce waste. Every little bit counts... Thanks!
1

medium size butternut squash, peeled, seeds removed and cut into fry chips, approx 1/2-inch thick pieces by 3-4-inch long

2

apples, peeled, cored and cut into quarters

1

tablespoon olive oil (optional)
1⁄2 teaspoon cinnamon
1⁄4 teaspoon clove
1⁄8 teaspoon nutmeg
Mix your spices together and pour them into a plastic bag that is large enough to hold the squash.
Add the oil (if using) & pour in the squash Shake the bag so all the chips are evenly coated.
Place them with the apple quarters on a parchment covered pizza stone single layer or on a parchment-covered cookie sheet.
Bake in 350°F oven for 15 minutes, flip the chips and the apples continue baking for a further 10 minutes or until the chips are tender.