Spicy Butternut Squash or Pumpkin Biscuits With Pecans
MsBindy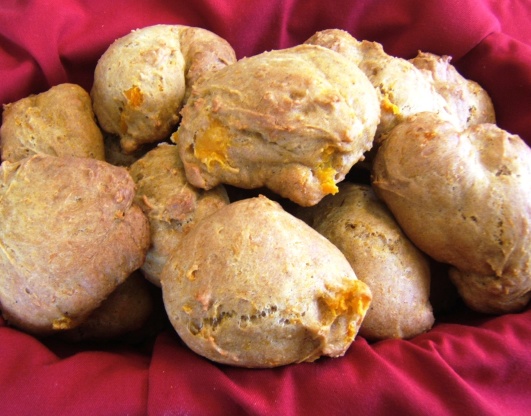 This I came up with a combo of a couple of recipes. Hey sweet potato will be an other good one to use in here to replace the butternut. Go easy adding wet ingredients or if the dough is to sticky go ahead and use a little more flour. Give a basket full of these for a house warming gift. Method for pureeing butternut Pureed Squash Butternut, Acorn Any Hard Winter Squash!

Quite good flavor, but I had a lot of trouble with this recipe. First, there was way too much wet mixture for the amount of dry ingredients. The mixture was very wet, more like muffin batter - certainly not something I could roll out and knead as directed. Rather than discard the excess wet (which was about half of the mixture), I added more flour. I was afraid to add too much, as I didn't want to toughen up the biscuits, but even after adding 1 1/2 cups extra, the mixture was just too wet to roll out. I instead treated these as drop biscuits and they turned out very nicely. Next time, I would try making these in muffin tins instead.
Sift together flour, salt, baking soda, spices, and sugar, stir in pecans.
Mix together the squash, butter and buttermilk.
Mix together dry and wet ingredients.
Using only enough wet or dry to make a soft dough.
Shape the dough into a ball and knead lightly on a well-floured board.
Roll the dough out 1-inch thick and cut with a 2-inch biscuit cutter.
Bake in a greased baking pan in a 400°F oven for 15-20 minutes or until brown.