Debbwl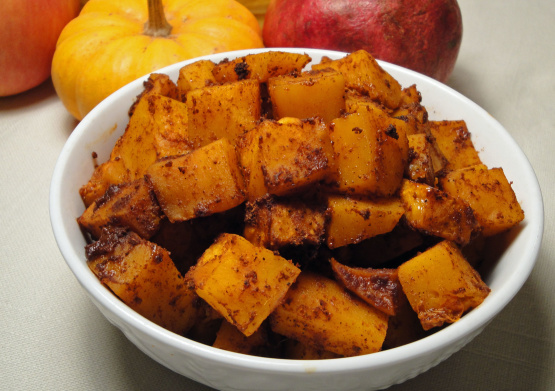 This recipe is based on one from Carl Jerome's cookbook, Cooking for a New Earth. This is a microwave recipe. He says in its intro, "The spicy coating on these cubes of rich butternut squash can be either sweet or hot, depending on the kind of chili powder used. When the chili powder is barely hot, the sweet taste of the squash will dominate; if it is fiery hot, it will add contrast to this autumn vegetable. This versatile recipe can be served as part of a cold meal in August, when the first winter squashes appear in the market, or hot from the oven during the winter months."

Top Review by Debbwl
Awesome side! The chili powder makes a tasty coating that does a wonderful job of balancing out the natural sweetness of the squash. I made as written cutting the recipe in half and would not change a thing the squash was perfectly cooked and flavored. Thanks for the post.
3

tablespoons chili powder

1

large lemon, juiced

3

lbs butternut squash, split lengthwise with a sharp, heavy chef's knife, the seeds and fibrous center scooped out of the c
Mix chili powder and lemon juice together in small bowl. Place the squash in a very large microwave-safe bowl and pour the spicy lemon juice over it. Toss to coat cubes evenly. Push cubes toward the sides of the bowl so that they cook evenly.
Cover and microwave on high (100%) for 14 minutes. The squash is done when the tip of a small sharp knife or toothpick slides through a few of the cubes easily. Until done, re-cover and microwave at 2 minute intervals.
If serving hot, scoop onto plate with a large serving spoon and serve immediately. If serving cold, refrigerate until cool.