KateL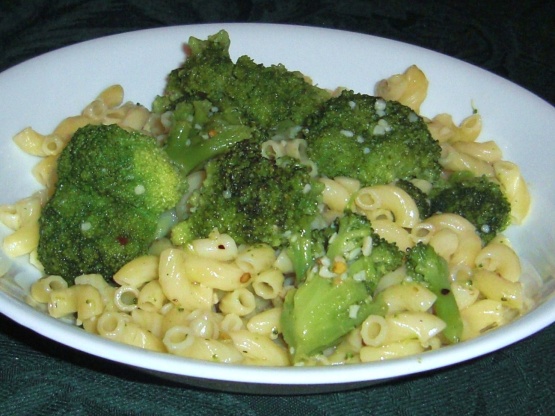 I found this in a food blog. The blogger credits the cookbook "Pasta" by Anna Del Conte and Eric Treuille.

Top Review by KateL
4 Stars, although DH gave 5 stars when he added shrimp. Made 1/2 recipe, but used only 3/8 lb. elbow macaroni, which seemed like a lot compared to the broccoli. This recipe is heavy on olive oil and garlic, with only a hint of red pepper flakes. I appreciated the extra olive oil on the macaroni. I cut back the overall cooking time of the broccoli to keep it slightly crunchy to our preference. After tossing everything together in the saute pot with a liberal amount of freshly ground pepper, I served up pasta dishes, then tossed thawed cooked shrimp in the saute pan with a shake of red pepper flakes to heat up the shrimp. In my shrimpless dish, I had the sensation of heat, but could not detect spicy flavors. DH had additional red pepper flakes with his shrimp, and was very pleased with his combination. My photos reflect 1/4 recipe per pasta dish. I recommend that salt and pepper to taste be added to the list of ingredients, as I would add some salt next time. Thanks for posting, Nonnie, I'll continue to experiment with this. Made for Pick-A-Chef Fall 2008.
Cook broccoli in boiling water, 3-5 minutes until just tender.
Heat oil in skillet over medium heat.
Add garlic.
Cook over medium heat until just golden, about 2 minutes.
Add drained broccoli and red pepper flakes, and cook 5 minutes.
Add salt and pepper to taste.
Add broccoli mixture to cooked pasta.
Toss and serve.