Spicy Broccoli and Soba Noodle Stir-Fry
chiclet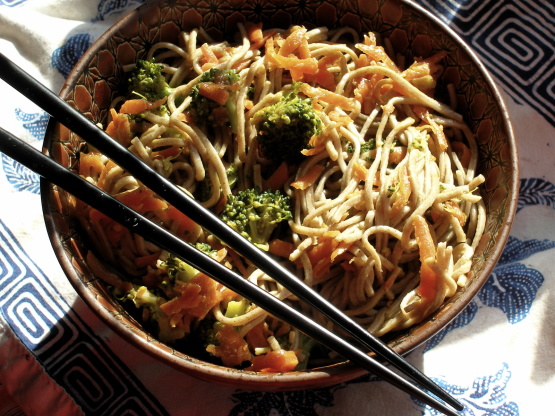 This is an easy, tasty weeknight meal I adapted from a Moosewood cookbook. It comes together pretty quickly, especially if all your ingredients are ready to go in advance. If you're not into tofu, chicken would probably work fine.

I almost gave this one three stars. It took less than a half an hour to make, so I bumped it up to four. I added a little ginger and ended up using egg noodles because I was out of soba. It didn't have much flavor, at least not compared to some similar recipes I have tried. Great for a quick meal, still yummy, just not exceptional. Thanks. Oh yeah, I doubled the sauce like AJO suggested and it worked out fine-if you only do what the recipe calls for it's not enough.
Bring 3 quart water to boil in a large pot.
While water heats, whisk together soy sauce, sugar, sesame oil, cornstarch and vinegar until smooth and set aside.
When water boils add soba noodles and cook 8-10 minutes.
Meanwhile, warm vegetable oil in a wok or large skillet over medium heat. Add garlic and cayenne and cook, stirring constantly, until garlic turns golden (less than a minute).
Stir in broccoli, water and sake; cover and cook 3-4 minute.
Stir in carrots, tofu and soy sauce mixture; cook for another minute or 2 until sauce thickens then reduce heat to low.
When soba noodles are al dente, drain and rinse them. Add to the vegetables and stir until they are coated with sauce.
Serve immediately, garnished with sesame seeds.