Spicy Black Bean Spinach Salad
flower7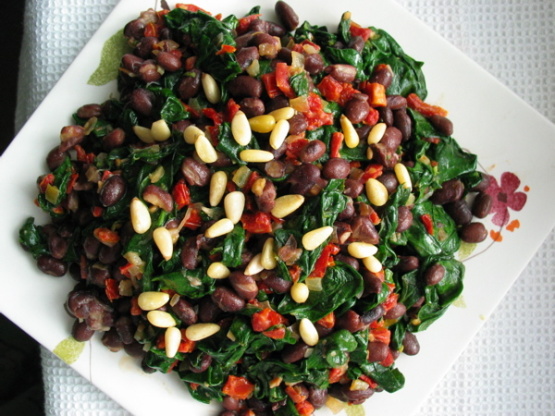 This is created for RSC #11

This was a nice change for a spinach salad. I did make a change by adding some chopped romaine in at the end, since I was trying to "stretch" out the quantity. I used less oil, too. The lime zest is a nice addition. Next time I'd like to add something to give it a bit of sweetness, maybe some raisins or cranberries. Thanks Katie, for posting.
Heat in a large skillet, 2 tbls olive oil.
Add shallots and cook until translucent.
Add spinach (2 cups at a time) until just wilted.
Once spinach is wilted add tomatoes, salt, cayenne pepper and black beans.
Remove from heat and place in serving bowl.
Mix 4 tbs olive oil and 3 tbls of lime juice and zest in a small mixing bowl.
Pour on spinach mixture and toss.
Sprinkle with pine nuts.
Serve at room temperature.