Spicy Black Bean Soup for the Crock Pot
Gary P.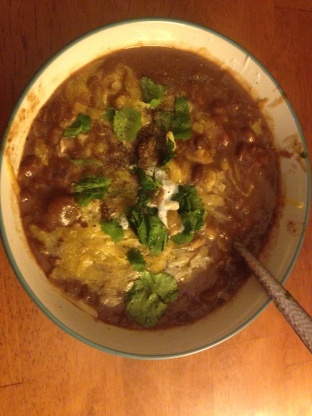 Makes a lot...great for freezing!
I almost want to give this 4 stars,.. but alas, the difficulty and time it took to actually make this soup was a lot more than the instructions state. Maybe if you use already cooked beans it would be as states... but as it is, using dried black beans it took me about 36 hours to soak the beans and cook them... <br/><br/>...I originally soaked them for 24 hours and then began the crock pot cooking of them. I checked back after the few hours as it states and they were nowhere near being done cooking. <br/><br/>Anyway, after realizing that the instructions are a bit off, I waited patiently... after about 10 full hours they were pretty much done (albeit I feel they even needed longer) and the taste was about a 4. Wasn't the best thing I've ever tasted and I had to add some of my own spices and such to take it to where I wanted. <br/><br/>Overall, I'd say it's a great healthy dish, but definitely not worth the time.
Soak beans in three times their volume of water over night. Drain and rinse.
In Crockpot, combine soaked beans and 1 1/2 quarts fresh water. Cook for 3 hours on high.
Stir in carrot, celery, onion, garlic, bell pepper, jalapeno, lentils, tomatoes, chili powder, cumin, oregano, black pepper, red wine vinegar and salt. Cook on low for 2-3 hours.
Stir the rice into crockpot in the last hour.
Puree half the soup in a blender, then pour back into the pot before serving. Serve with lime wedge, plain yogurt, and cilantro.