chia2160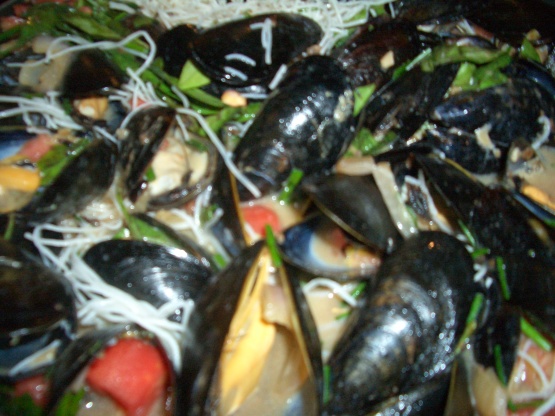 this is delicious. i serve this over thin rice noodles for a complete 1 dish meal. this is spicy, use less chiles for a milder dish. this recipe is in the "blue ginger" cookbook.
soak noodles in warm water while preparing the rest of the ingredients.
heat oil in a large wok or pot.
add garlic, ginger, chiles and black beans and heat until softened, 2 minutes.
add wine and 1 c chicken stock.
add mussels, cover and heat 5 minutes until mussels open.
add tomatoes, fish sauce, and remaining chicken stock.
drain rice noodles and add to pot.
add basil, chives and butter, stir well.
season with salt and pepper to taste.
divide into 4 pasta bowls, squeeze a half lime over each serving.