Jubes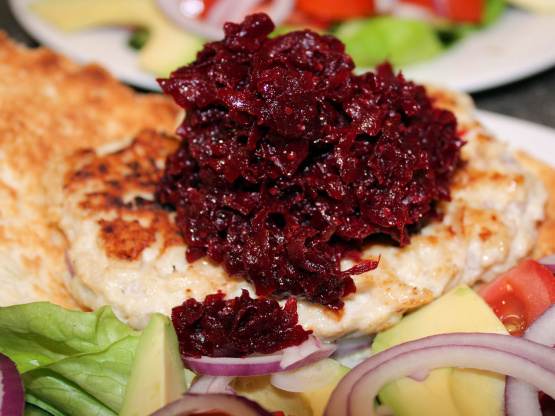 Served cold with your favourite burgers, sausages or lamb. Yield depends on the size of jars you may use. You can grate the beetroot in a food processor. I suggest that you wear disposable gloves whilst dealing with the beetroot to avoid staining your hands. You can make this relish in advance and keep it in a sterilised sealed jar in the refrigerator

This relish is so very simple to make and really really yummy. Great way to use beetroot without having to cook it first. This will definitely be made over and over again.

I didn't have all-spice so I just added a few cloves, a sprinkle of nutmeg and a touch more cinnamon.
Place all the ingredients into a medium sized saucepan and, over a high heat, stir until the honey dissolves.
Bring to the boil and then reduce to a simmer and cook for about one and a half hours or until most of the liquid has evaporated and the grated beetroot is tender.
Taste for seasoning while it is still warm and adjust if necessary.