Peter J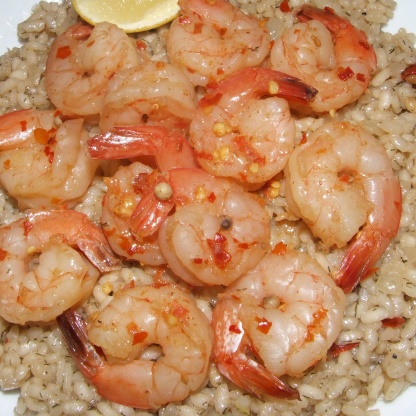 The Runner-Up recipe for 1997 in the San Francisco Chronicle, from Robin Davis.

Tasty and enjoyed this one but I would agree not as spicy as I was expecting. I used very hot chili flakes but think draining after boiling removed some of the effect, I also didn't use cocktail sauce but did pour over the butter / lemon / cayenne mix. I used prawns that had been shelled with the tails attached but that would have only further soaked things in. I did enjoy this Evelyn and thanks for sharing, however didn't get the kick I was expecting which may be a good thing for a lot of people!
Combine the beer, pepper flakes, peppercorns and bay leaves in a large heavy saucepan. Bring to a boil, then boil for 2 minutes. Add the shrimp. Cover and cook until the shrimp are cooked through, about 5 minutes. Drain.
Melt the butter. Stir in the lemon juice, black pepper and cayenne pepper.
Serve the shrimp with the butter mixture, cocktail sauce and lemon wedges.