Brenda.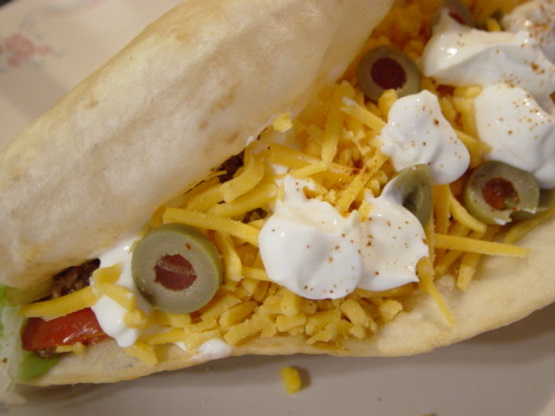 Mexican-style Spicy Beef Tacos, posted for the 2005 Zaar World Tour, adapted from an International Masters 'recipes for pan or wok' recipe card. To complete the Mexican theme, serve the tacos with creamy avocado dip and refried beans.
These were very nice, I enjoyed the seasoning, not to hot, just right for everyone in this household. Will make again. Thanks
Grate the cheese coarsely, peel and finely chop the onion and garlic; gently heat the ground beef in a non-stick pan or wok, stirring until the juices start to run.
Add the onion, garlic, flour, cumin and chili powder, mix well and cook, stirring, for 3-4 minutes, or until the meat is brown; stir in the tomatoes and stock; bring to the boil; simmer for 25 minutes or until the sauce is thickened and season to taste.
Meanwhile, shred the lettuce and slice the olives; cover and chill until required; and gently warm the taco shells according to the packet instructions.
Press a little lettuce into each taco, top with mince then sprinkle over with olives and cheese; serve the tacos with spoonfuls of sour cream dusted with paprika.