Parsley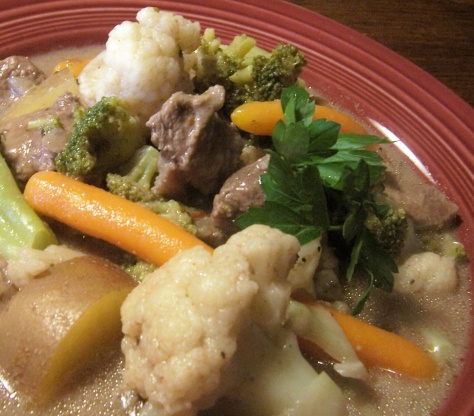 So good for those fall and winter months. Gets you really warm inside! Serve with some nice crusty french bread to sop up all the liquid.

This was very good and VERY spicy! I halved the black pepper and it was still extremely hot, hot, hot. I did simmer the meat for about 1 1/2 hours before adding the veggies and simmering for another 45 minutes or so. I wanted the beef to be very tender and it came out great. I used twice the amount of beef and added potatoes, but otherwise followed the recipe (except for the above mentioned pepper thing :) to a "T". I would suggest anyone with kiddos may want to reduce the pepper even further, but for those of you who like it hot, this does warm you up! Thanks for the tasty recipe, Diggy.
Put first 3 ingredients into pot.
Brown meat until you can see no pink, over medium high heat.
Add flour and stir to coat.
Then add water and boil, covered for 10 minutes.
Then add seasonings, kitchen bouquet, white wine, worcestershire, and veggies and then add 4 cups water, or until the top of meat and veggie mixture is covered.
Boil for another 20 minutes covered.
If needed keep adding water to keep covering the top.
Then at end add milk and flour mixture to thicken, and let simmer for 5 minutes.
Meat is a little chewy, so if you want it more tender before adding milk and flour mixture let boil for another 10 minutes.