Spicy Asian Orange Sauce - HCG Phase 2
teresas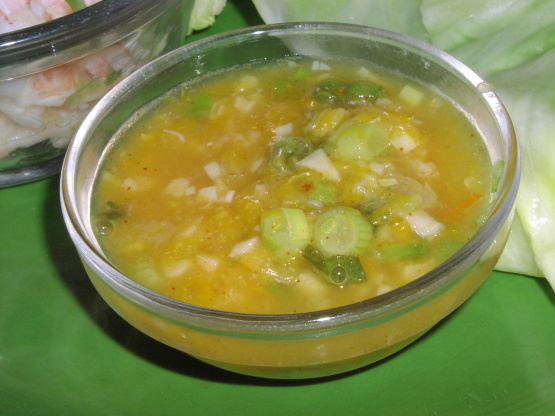 A really interesting sauce to serve with any of your HCG protocol allowed proteins. Can also be used as a dipping sauce. Counts as 1 fruit serving. Taken from The HCG Diet Cookbook Gourmet Success.

What a nice sauce to have on hand...I zested the citrus before boiling in the water...I found that holding the rind with tongs while you scrape out the pulp worked great...really liked the tart/sweet tang this gave...served it with recipe #492959 for a delicious meal...made for Spring PAC 2013 =)
In a small saucepan add the orange and lemon to water.
Bring to a boil, reduce heat and simmer adding water as needed.
Simmer until the pulp comes out of the rinds. Scrape out the pulp and discard the rinds.
Continue stirring and reducing the liquid by half until desired consistency is reached.
Add green onion, stevia and spices.
Serve with protein.