Spicy and Savory Chocolate Chip Cookies (aka Sierra Nuggets)
Boomette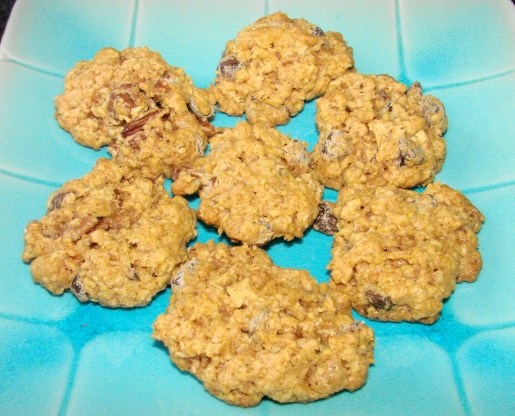 These are the best chocolate chip cookies ever because of their unusualness. This cookie combines oats, nuts, spices, and chocolate, all for a wonderful and savory treat!

Pretty much made these great tasties as given, but I did a coarse crushing of the corn flakes! Great combo of flavors & a very nice change from the usual chocolate chip cookies! Shared at a weekly group we attend! Thanks for sharing the recipe! [Made & reviewed in I Recommend recipe tag]
Preheat oven to 350F and grease cookie sheets.
In a medium bowl, combine flour, baking soda, salt and spices; set aside.
In a large bowl, cream butter and sugars until smooth.
Mix in milk, vanilla, and beaten eggs.
One at a time, stir in the cornflakes, oats, dry ingredients (from medium bowl), coconut, chocolate chips, and walnuts (if using), just until each addition is incorporated.
Drop dough by well rounded teaspoonfuls onto greased cookie sheets.
Bake 10-12 minutes, then let stand for 2 minutes before removing to let cool on baking racks.