Spicy Almond Soba Noodles With Edamame
IngridH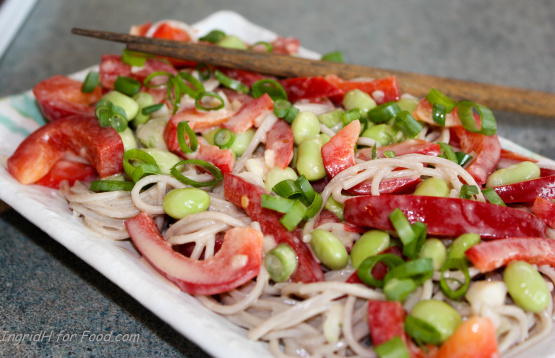 From "Serving Yourself" by Joe Yonan, a new cookbook for cooking for one. Soba noodles are so good, and this is good at room temperature, so it's great for brown-bagging. Any leftovers will keep for up to three days in the fridge.

Yummy! What a great dish for a quick cold lunch. It looks beautiful on the plate, and is very healthy. I omitted the chopped nuts to save on calories, but honestly I didn't miss them. The sauce only needed 1 Tablespoon of water (my nut butter wasn't very thick), and had a great tanginess along with just a hint of spiciness. I did need to add quite a bit of salt, to combat the natural blandness of both the soba and the edamame. This will definitely become a lunchbox staple!
Bring a large pot of salted water to a boil over medium-high heat, add the soba noodles and cook 6 to 8 minutes, or until barely tender. Use tongs to remove the noodles to a bowl, reserving the cooking water.
Return pot to the boil. Add the edamame to the pot and cook until tender, about 5 minutes. Drain and add to the noodles.
Toast the almonds in a small, dry skillet over medium heat, shaking frequently, until lightly browned and toasty, 2 to 3 minutes. Remove immediately to a plate and allow to cool. Coarsely chop.
Combine the nut butter, vinegar, garlic and red pepper flakes in a small bowl. Add the hot water, stirring to mix well. If it seems too thick, add more hot water, a teaspoon at a time, until it has reached the right consistency. Add salt to taste and more vinegar and red pepper flakes if you want it tangier/spicier.
Pour over the noodles, add the scallion, bell pepper, and chopped almonds, and toss well.