Linky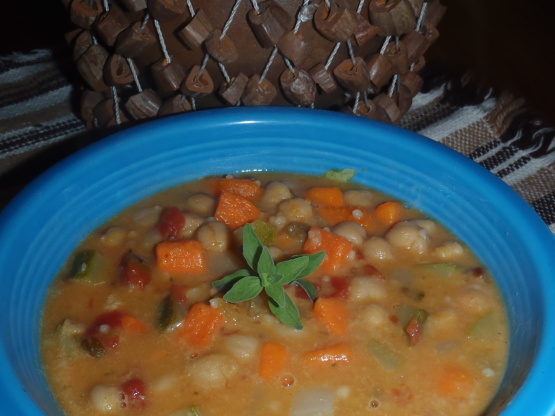 This is just like Ground Nut Stew, only without the chicken!! Makes a great Vegetarian Soup! You could switch out Vegetable broth for Chicken if you prefer.

So good and such a wonderful comfort food. Loved all the ingredients and the delicious flavors. You really don't need to add anything except some delicious bread to soak up the liquid. Thank you so much for the great recipe -- we will definitely have this dish again! Made for the African Recipe Tag, March, 2012.
Heat the oil in a stockpot over medium heat. Saute onion, sweet potato, and garlic until onion is soft. Turn down heat if necessary to prevent burning.
Stir in the broth, thyme and cumin. Bring to a boil, cover and simmer for about 15 minutes. Stir in tomatoes, garbanzo beans, jalapenos and zucchini. Simmer until tender, about 15 minutes.
Stir in the cooked rice and peanut butter until the peanut butter has dissolved.