Spiced Tilapia With Mango Black Bean Salsa
Maggie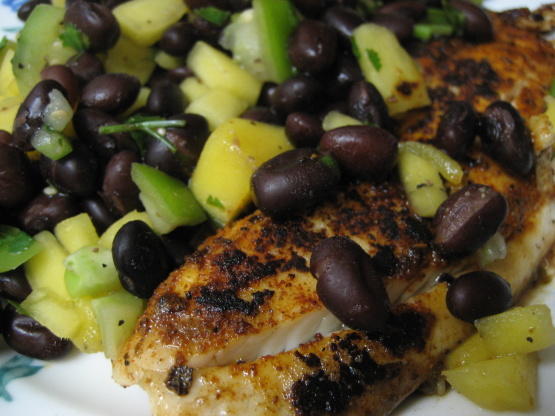 From Fine Cooking's "Cooking Fresh." This salsa is wonderful and versatile. Even though this recipe is for 2 servings, I suggest you make the whole batch of salsa (Mango Black Bean Salsa) and store it for other dishes. It is obviously easier to make in larger batches. Try this spice rub on chicken or grilled chops as well!
For salsa: Combine all in a bowl and mix. Store in refrigerator, covered, until used.
For fish: Mix all spices and rub both sides of the fillets equally with the mixture.
Spray a non-stick skillet with cooking spray, generously. Heat over medium-high heat until hot.
Cook the tilapia fillets in the skillet until lightly browned and the flesh is opaque and flakes, about 2 minutes per side.
Serve topped with cold OR warmed salsa!