Spiced Sweet Roasted Red Pepper & feta Hummus
JustJanS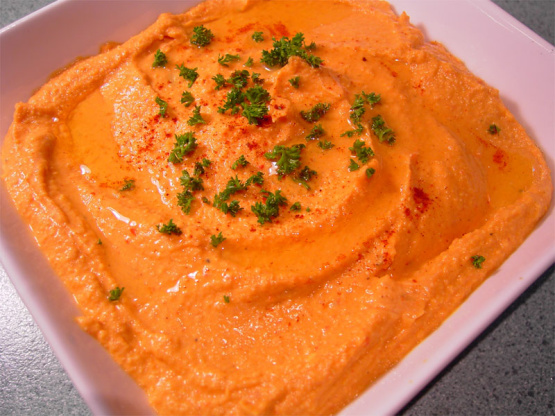 Middle Eastern style spread for Pita bread. This recipe is very tasty and easy to make. This is a very popular dish in this region. The base is usually Chickpeas and Tahini, but the flavor added to the base vary widely from one chef to the next. Tahini is a sesame paste, you can usually find it in the Mediterranean section of your grocery store.

Oh man! I will be making this one again and again. What wonderful texture and taste - the cayenne and garlic give it a great bite and the roasted bell pepper contrasts it with just a hint of sweetness. Scooped with some toasted whole wheat pita triangles and you've got a winner. Thanks Steve! :)
In an electric blender or food processor, puree the chickpeas, red peppers, Feta, lemon juice, tahini, garlic, cumin, cayenne, and salt.
Process, using long pulses, until the mixture is fairly smooth, and slightly fluffy.
Make sure to scrape the mixture off the sides of the food processor or blender in between pulses.
Transfer to a serving bowl and refrigerate for at least 1 hour.
(The hummus can be made up to 3 days ahead and refrigerated. Return to room temperature before serving.) Sprinkle the hummus with the chopped parsley before serving.