Spiced Sugar Rim Garnish for Hot Beverages
Rita1652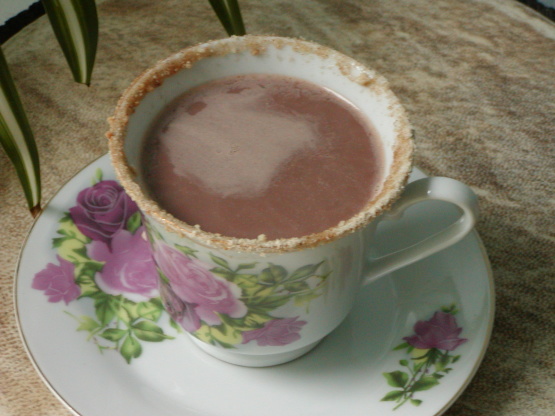 A lovely, simply garnish to dress up your hot beverage glasses for a dinner party or special occasion. Adapted from Cooking Pleasures magazine. Once you have garnished your glasses, fill with hot buttered rum, mulled cider, or even coffee. Unused dry mix will keep in a plastic airtight container for several months.

Very tasty! A Comfort Garnish! This is good topped on whipped cream that's on coffee. Make sure the almonds are completely cooled before processing. I did use half powdered sugar just because I ran out of regular sugar. Great on hot chocolate. Was good on the glass rim of my Caramel Apple Martini recipe #71483.
Combine all ingredients(except liqueur) in a food processor, grinding into a powder.
When ready to use, set some of the powder on a plate, pour liqueur into another shallow dish.
Dip a heat-safe mug (since you will be filling this with hot cider or hot buttered rum) into first the alcohol, then press into the powder to coat the rim.
Let sit a few minutes to harden before filling glass with hot beverage of your choice.