Spiced Salmon With Mustard Sauce
mikey ev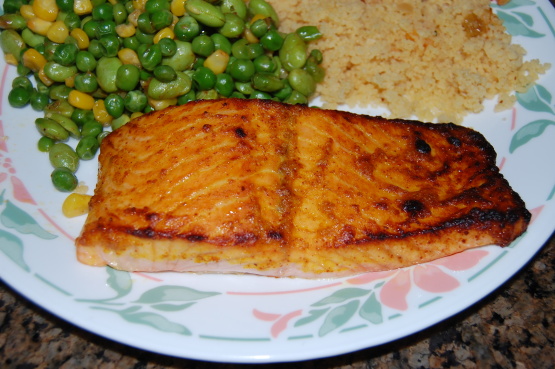 from Cooking Light. (1) While broiler preheats, prepare salmon; (2) While salmon cooks, prepare couscous and frozen veggies. This is the fastest, healthiest, and most well-rounded weekday dinner (or even for a dinner party)!

This recipe was fantastic. I normally just bake salmon with lemon juice and spices but broiling left it full of juices and the seasoning blend made it spicy and crisp and delicious. My husband who usually just tolerates seafood loved this dish and I'm still tasting it hours later.
Preheat broiler.
Combine all ingredients except the salmon in a small bowl, stirring well with a fork.
Rub mustard mixture evenly over each fillet.
Place fillets, skin side down, on a jellyroll pan coated with cooking spray.
Broil 8 minutes or until fish flakes easily when tested with a fork.