2Bleu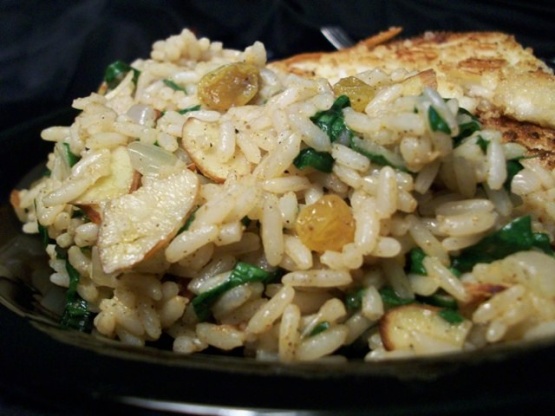 Fragrant with spices of the Middle East. This would go great with not only Middle Eastern food, but Indian food as well. You can find rose water (an optional ingredient) in Indian/Pakistani grocers, as well as some pharmacies.

I thought this was just okay. It was lacking in salt. but that was an easy fix. I did skip the rose water... and it sure did taste like it was missing something. i think i'll have to try this again once i buy some rose water... and i will re-rate.
In large saucepan, cook onion in olive oil until tender. Stir in rice and spices. Cook, stirring constantly, until rice begins to turn golden.
Pour in broth and water. Bring to a boil, then reduce heat, cover, and simmer for 15 minutes. Do not lift lid while cooking.
Remove from heat and allow to sit for 5-10 minutes undisturbed.
Then add the chopped spinach, raisins, and almonds, stirring, and fluffing with a fork. Sprinkle with rose water, and fluff a little bit more, if desired.