Annacia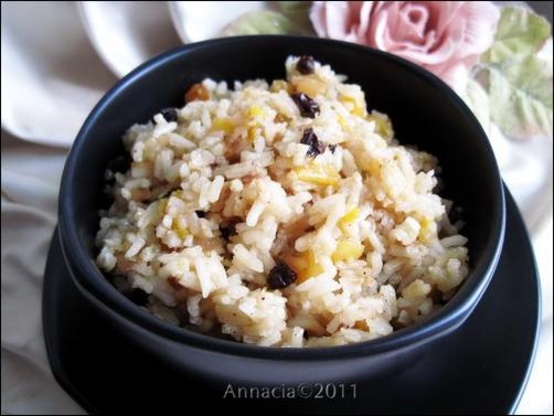 This rice is colorful and tasty and a little more special than an everyday side dish. It goes well with lamb, ham or pork.

A nice side dish. I easily imagine this in an iberian household of the colonial era. The nutmeg and coriander do need to set in a little; it shouldn't go straight to the table. I just used additional raisins in place of the currants.
Cook rice with peeled ginger, in boiling salted water until done, about 25 minutes. While rice is cooking, soak the raisins, currants and chopped apricots in hot water to cover, then drain when plump.
When rice is ready, remove ginger and place rice in a warm serving casserole. To the rice in the casserole, add pepper, nutmeg, shallots, lemon juice, coriander, and olive oil. Gently fold in the plumped raisins, currants and apricots. Keep warm until ready to serve. Just before serving, sprinkle with pine nuts.