Spiced Red Pears in Wine (Crock Pot)
Rita1652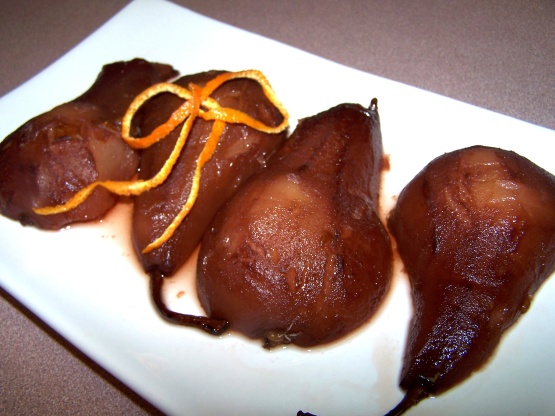 This is one I'm considering for the holidays. It is originally from "125 Best Vegetarian Crock pot Recipes). The original says this is best in a 3 1/2 quart crock pot because that allows the pears to be submerged. This is served cold so it needs time to chill. Depending on the size of your pears you might need more wine.
Peel and core your pears. Then cut in half lengthwise. Put them in your crock pot.
Add the wine (making sure your pears are covered), the sugar, cinnamon stick, and cloves.
Zest the orange and put all the zest in your crock pot.
Cover and cook on low for 6 to 8 hours or until the pears are tender.
Chill really well.