Marie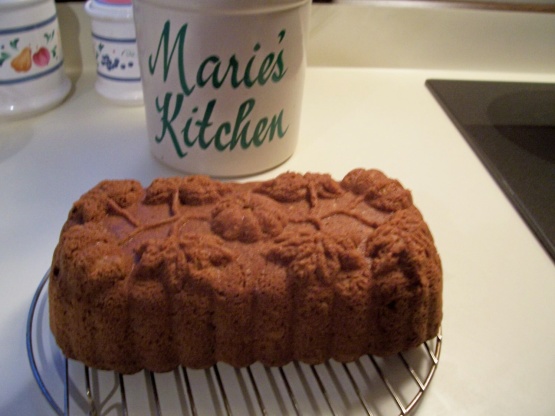 This is the best pumpkin bread I've ever tasted! I got the recipe from the November, 1995 issue of Bon Appetit Magazine. It was submitted by Vern Bertagna of West Frankfort, IL. Enjoy!

This is the same pumpkin bread recipe we've been making in my family for years, and everyone who tries it absolutely loves it! It's so moist, and the spices give it the most delicious flavor! I now use Egg Beaters and applesauce in place of half the oil to make it a lower fat treat!
Preheat oven to 350ºF.
Butter and flour two 9x5x3" loaf pans.
Beat sugar and oil in large bowl to blend.
Mix in eggs and pumpkin.
Sift flour, cloves, cinnamon, nutmeg, baking soda, salt and baking powder into another large bowl.
Stir into pumpkin mixture in 2 addtions.
Mix in walnuts, if desired.
Divide batter equally between prepared pans.
Bake until tester inserted into center comes out clean, about 1 hour and 10 minutes.
Transfer to racks and cool 10 minutes.
Using sharp knife, cut around edge of loaves.
Turn loaves out onto racks and cool completely.
Makes 2 loaves.