cyaos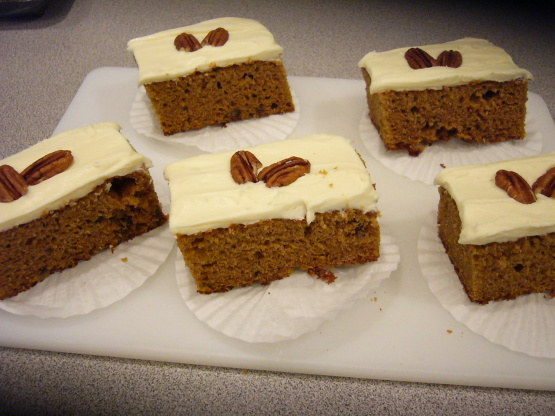 These are called bars but I always make it like a cake and slice it into pieces. When I take this to gatherings, especially during the Thanksgiving and Christmas season, I always get rave reviews and always come back home with the tray empty. I found this recipe on MSN about five years ago and the recipe is credited to Better Homes and Gardens. This recipe is also really easy to cut in half to make a family-sized dessert.

Very moist and nice to send with my husband to work.
Preheat oven to 350°F.
In a medium bowl stir together flour, baking powder, cinnamon, baking soda and salt; set aside.
In a large mixing bowl beat together eggs, pumpkin, sugar and oil with an electric mixer on medium speed. Add the flour mixture; beat until well combined. If desired, stir in chopped pecans.
Spread batter into an ungreased 15x10x1 baking pan.
Bake in 350 F oven for 25-30 minutes or until a wooden toothpick inserted in the centre comes out clean. Cool completely in a pan on a wire rack.
In a medium mixing bowl beat together the cream cheese, butter and vanilla until fluffy. Gradually add the powdered sugar, beating until smooth.
Frost pumpkin bars. If desired, top with pecan halves. Cut into squares. Store, covered, in refridgerator up to 3 days.